The UConn International Case Challenge brings teams of four undergraduate students from around the world to compete in analyzing and presenting an international business case to judges. The UConn International Case Challenge offers an excellent opportunity for students to gain exposure to international business issues as well as to meet business students from around the globe. There are social events, such as the annual t-shirt exchange, in addition to the competition.
The 2018 UConn International Case Challenge will be held at the University of Connecticut, Storrs Campus from Wednesday evening, November 7 through Sunday morning, November 11th, 2018. (Please see below for highlights from last year's competition.)
The 2017 UConn International Case Challenge was held at the University of Connecticut from October 11th – October 15th. The 14th Annual Case Challenge was a stunning success! Students competed from schools across the world, from right here at UConn to San Diego State University to the University of Trento in Italy. Students were divided into teams by both school and major (Marketing, Management/Global Business, Finance/Accounting, and IT/Operations Management). Therefore, teams had to intensely research a international business case over a short period of time, all while overcoming the challenge of working with students possessing completely different perspectives than their own.
Students arrived on Wednesday and were welcomed by a hospitable CIBER staff and a delicious welcome dinner provided by the Nathan Hale Inn. Thursday was dedicated to be an activity day focused on team bonding. Participants traveled to Boston to explore the city and traverse both land and sea in the city's signature Duck Boat rides.
After returning from Boston, the participants enjoyed a delicious dinner accompanied by an intriguing Q&A panel hosted by Henkel AG & Co. The panel consisted of Patrick Malanaphy, Global Technology Manager; Sandra Matsumura, Global Business Controller; Patrick Courtney, Vice President of Product Development; and John Borden, Director of Global Market Development. All members of the panel shared their global business experiences  with the students and thoroughly answered any and all questions that they were asked.
The case was distributed on Thursday night, and the teams worked hard until Saturday morning, when the competition begun. After a long day of presenting their cases, winners were chosen by our respected judges. Our board of judges is comprised of local business executives and UConn faculty who graciously donate their day to elect a winner for the competition. The winning team in each room was sent to the final round of the competition to present to a different panel of judges. A final winner was then chosen of the three finalists, an award dinner was held, and the event came to a conclusion. Thank you to everyone involved in making this event such an amazing successe!
First Place: 3Squared
Shruti Kansara, Julia Elliot, Joshua Dahlberg, Kahan Soni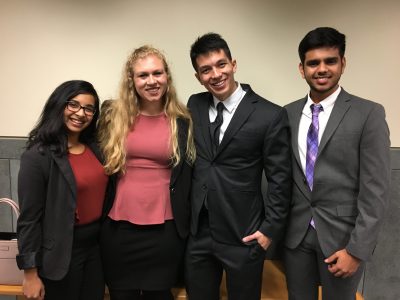 Second Place: Deal Team 6
Robert Jordan, Shadman Khan, Colleen Kane, Ludovica Grilli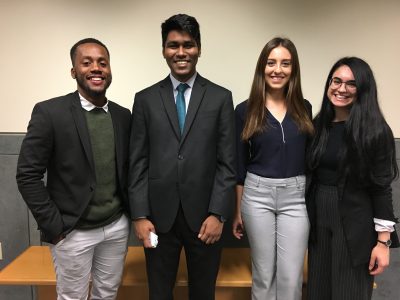 Third Place: The Argonauts
Kate Haagensen, Ankit Sheth, Lorenzo D'Auria, Jordan Patterson,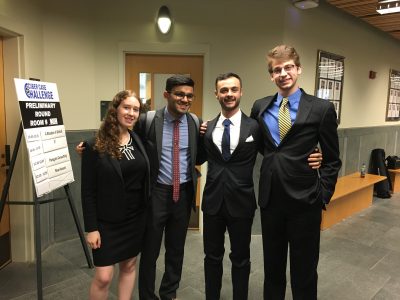 A Slideshow of all the fun!
The UConn International Case Challenge is formerly known as "CIBER Case Challenge".