The 2019 UConn International Business Case Challenge will take place on November 13th to November 17th on the Storrs campus. We will once again be addressing an issue related to sustainable global business and welcome universities from around the world to send a team of 4 business students.
The UConn International Business Case Challenge brings teams of four undergraduate students from around the world to compete in analyzing and presenting an international business case to judges. The UConn IB Case Challenge offers an excellent opportunity for students to gain exposure to international business issues as well as to meet business students from around the globe. There are social events, such as the annual t-shirt exchange, team-building activities and visits from Connecticut business professional, in addition to the competition.
The 2018 UConn International Business Case Challenge (formerly knows as the CIBER Case Challenge)  was held at the University of Connecticut, Storrs Campus from Wednesday evening, November 7 through Sunday morning, November 11th.  This past year marked the 15th Annual Case Challenge, and was the most successful competition yet! Students competed from schools across the world – from right here at UConn to Florida State University, from the University of Trento in Italy to the University of Johannesburg in South Africa. Students were divided into teams by both school and major (Marketing, Management/Global Business, Finance/Accounting, and IT/Operations Management). Therefore, teams had to intensely research na international business case over a short period of time, all while overcoming the challenge of working with students possessing completely different perspectives than their own.
Students arrived on Wednesday and were welcomed by a hospitable CIBER staff and a delicious welcome dinner provided by the Nathan Hale Inn. Thursday was dedicated to an activity day focused on team bonding. Participants traveled to Connecticut's capitol of Hartford to explore the city, postulate at the Connecticut Science Center, and critique art at the Wadsworth Antheneum Museum of Art!
The participants enjoyed a delicious dinner at UConn's very own GBLC (Graduate Business Learning Center) and participated in an intriguing Q&A panel with HYPE (Hartford Young Professionals & Entrepreneurs), sharing with students their many and varied global business experiences.
The case, which was a live case on sustainability for an Australian Quarry corporation, was distributed on Thursday night, and the teams worked hard until Saturday morning, when the competition began. After a long day of presenting their cases, winners were chosen by our respected judges. Our board of judges is comprised of local business executives and UConn faculty who graciously donate their day to select a winner for the competition. The winning team in each room was sent to the final round of the competition to present to a different panel of judges. A final winner was then chosen of the three finalists, an award dinner was held, and the event came to a conclusion. Thank you to everyone involved in making this event such an amazing success!
First Place: Jenna Lemmer, George Scribano, Nadine Eloseily, Katelyn Arrowsmith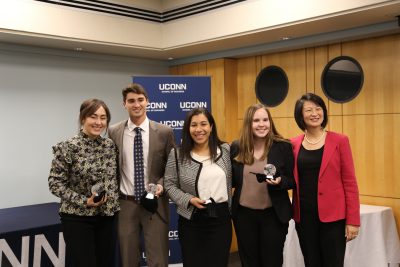 Second Place: Diksha Garg, Susanna Bertolini, Sean Grossnickle, Erin Webster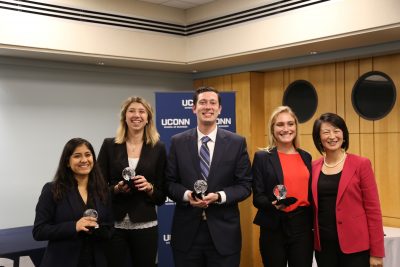 Third Place: Brenna Kelly, Maria Kissel, Filippo Perini, Bongani Mokoena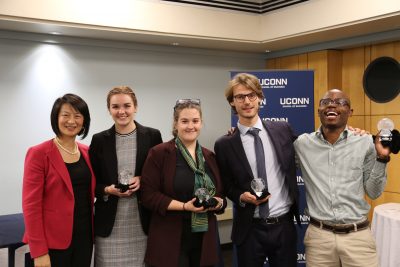 A Slideshow of all the fun!
The UConn International Case Challenge is formerly known as "CIBER Case Challenge".