Undergraduate
The GE Study Abroad Scholarship Program is awarded based on need and merit to undergraduate students in the School of Business to help defray the costs of study abroad. Since 2002, the GE Study Abroad Scholarship Program has helped 60 students study across the globe. See previous scholarship recipients and read their Study Abroad blogs here.
Undergraduates will apply through the Undergrad advising office in the spring each year. More information is available here.
This semester's study abroad student scholarship recipient is…….Victoria Myers.  She is studying in Australia.  Read her new blog.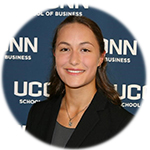 ______________________________________________________________________________
Past Recipients of the GE Undergrad Study Abroad Scholarship:
2018, Fall: Katherine Kolc (Prague) blog
2018, Summer: Grace Guertin (London) blog
2018, Summer: Emily Vergara (London) blog
2018, Summer: Luis Rivera (Prague) Luis Rivera Prague Essay (002)
2018, Spring: Amschel Rothschild (Barcelona) blog
2018, Spring: Auna Harvey (Netherlands) blog
2017, Fall: Brendan Armbrust Mulcahey, (London) blog
2017, Fall: Robert Chambers, (New Zealand) blog
2017, Summer: Ben Nobles, (Germany) blog
2017, Summer: Nicolette Melia, (London) blog
2017, Spring: Jordan Angel, (Spain)
2017, Spring: Emily Knickle, (Italy)
2016: Matthew Erickson, (Italy)
2016: Brook Tinnerello, (London)
2016: Brandon Williams, (London)
2015: Patience Bearse, (Singapore)
2015: Brenna Coughlin, (London)
2015: Thalia Mangan, (Italy)
2014: Benjamin Paul, (Guatemala)
2014: Christopher Reschberger, (Guatemala)
2014: Brandon St. Jean, (Guatemala)
2013: Kyle Bacon, (China)
2013: Austin Flynn, (London)
2013: Courtney Hong, (London)
2013: Akanksha Singn, (Spain)